Cost of Dental Implants – Landrum, SC
Understanding the Price of the Best Tooth Replacement
Believe it or not, there is actually no set price for dental implants. The cost can vary greatly from patient to patient depending on a number of factors, like how many teeth you're missing and where in your mouth they're located. Although they may seem to have a hefty upfront cost, the vast majority of our patients find that this treatment is well worth it. Keep reading below to learn how affordable dental implants really are. Then, contact us to schedule a consultation with our dentist, Dr. John Moneyhun, to learn about the specific costs of your implant procedure.
Types of Dental Implants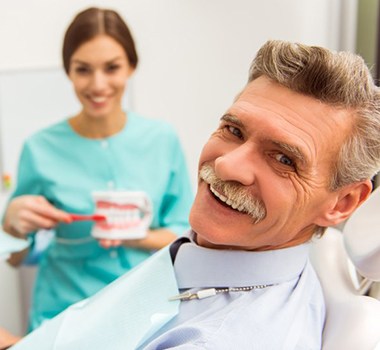 Dental implants can be made of various materials, all of which come with a different price. However, a primary factor in the cost of your treatment is the number of implants you're receiving, which will affect the type of restoration you'll get. A single missing tooth can be replaced with just one implant post and a dental crown on top. For several consecutive missing teeth, implants can be placed at either end of your gap, with a dental bridge suspended in between them. If you're missing all your teeth on your top and/or bottom arch, four to eight implants per jaw can be placed to provide enough support for a full denture.
It should go without saying that the more implant posts you require, the higher your cost of treatment will be.
What are the Stages of Dental Implant Treatment?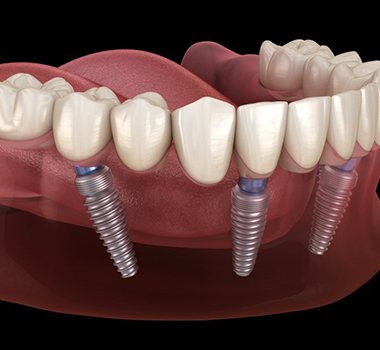 We don't expect you to pay for the entire treatment at once. Because the dental implant process involves multiple appointments, your payment can be broken up into more manageable portions. Some of the stages you may experience, which each incur their own unique cost, include:
Initial consultation
Preliminary procedures like a tooth extraction, bone graft, or sinus lift
Dental implant placement surgery
Surgery to place the abutment
Installation of the final restoration
Are Dental Implants Worth the Investment?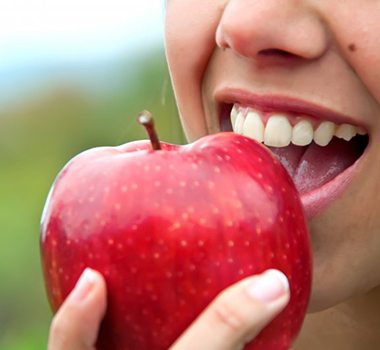 Absolutely! Traditional solutions to tooth loss have to be repaired or replaced every few years. Over the years, this can lead to a lot of time spent in the dental chair as well as a lot of money spent on replacements. It may even end up costing you more than the initial cost of implants!
By contrast, dental implants are designed to last for 30+ years. With proper care and maintenance, they could even last for the rest of your life! Not to mention, they improve your oral health by promoting jawbone growth, preventing your remaining teeth from shifting, and decreasing your risk for additional tooth loss. Most of our dental implant patients have stated that this treatment is definitely worth the price.
Does My Dental Insurance Cover Dental Implants?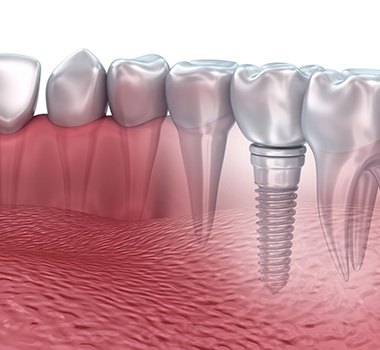 While many dental insurance companies see implants as a purely cosmetic procedure, more and more carriers are starting to cover the cost of implants. However, don't automatically expect coverage without contacting your insurance company first. If you need help getting in contact with them, our team is more than happy to assist you. We can also maximize any benefits you may qualify for and file your claims on your behalf.