Dental Bridges – Landrum, SC
Filling In the Empty Space
Having a gap between your teeth because of a missing tooth can be alarming. Depending on its location inside your mouth, you may feel more self-conscious about your appearance. This is why our team at Parkside Dental recommends dental bridges in Landrum. Designed to look completely natural while also providing optimal comfort, you can rest easy knowing that your new smile looks and feels beautiful each time you smile. Call us to schedule an appointment.
What is a Dental Bridge?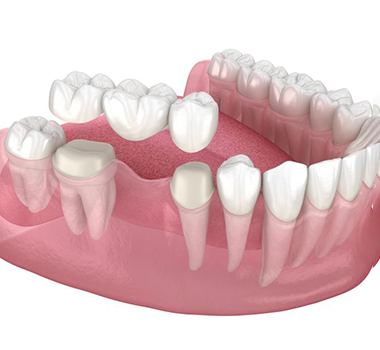 A dental bridge is a customized restoration that is created using two dental crowns and artificial teeth. The crows are placed over healthy abutment teeth that are already filed down. Attached to these crowns are pontics or artificial teeth. Filling in the gap of your smile, you can trust that your dental bridge will last up to 10 years or more with optimal maintenance. And the best part is that you can likely receive your new teeth in just two visits.
Types of Dental Bridges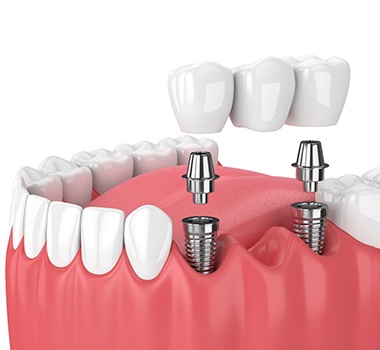 Currently, there are two types of dental bridges available. During your appointment, you and our team will go over your available options and discuss which one is right for you.
Traditional Dental Bridge
Traditional dental bridges have been widely used for decades. Although they are highly effective, they do require altering healthy teeth to serve as anchors for dental crowns. The remaining teeth, the pontics, fill in the space to create a clean, cohesive, and beautiful smile.
Implant Bridge
Implant bridges are designed with the help of two titanium posts that mimic the natural root structure as well as a customized dental bridge. Instead of relying on healthy teeth to anchor the bridge, it is attached to two surgically placed implant posts that fuse with your jawbone.
What Are the Benefits of Getting a Dental Bridge?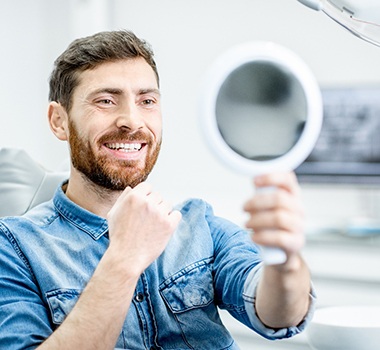 With dental bridges, you can feel confident that your new smile will look and feel its best in the years to come. Not only will you find that your mental, physical, and emotional health improve, but you'll also learn other advantages that can come with dental bridges, such as:
Eating some of your favorite foods is once again a reality
You'll be pleased with your appearance and its vibrance
You'll enjoy greater confidence because of your complete smile
You'll avoid touching your healthy teeth, allowing them to remain in place
Encouraging better oral health because of how pleased you are with your appearance
Depending on the type of bridge you receive, it is possible that yours can last a lifetime (implant denture)