Full Mouth Reconstruction – Landrum, SC
Completely Transform Your Smile
Do you have teeth that are stained, broken, decayed, or missing? Full mouth reconstruction uses a customized treatment plan to help patients achieve a smile that is healthier and more aesthetically pleasing. We will use a series of restorative treatments to renew your smile's health and appearance in the most efficient way possible. To learn more about full mouth reconstruction or to schedule a consultation with us, don't hesitate to give us a call!
Why Choose Parkside Dental for a Full Mouth Reconstruction?
---
Advanced Dental Technology
Dental Insurance Welcome
Financing Options Available
Is a Full Mouth Reconstruction Right for Me?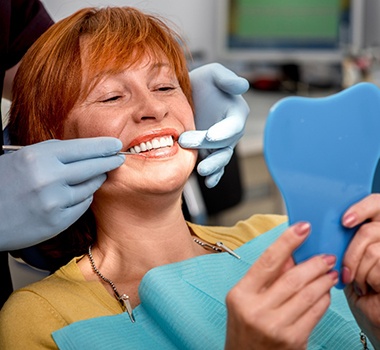 Full mouth reconstruction can address complicated and severe dental issues. Full mouth reconstruction is not one-size-fits-all. Your dentist will customize your entire plan to meet your needs. The goal is to optimize your mouth's function and improve the appearance of your teeth. If there are numerous functional and cosmetic issues related to your smile, full mouth reconstruction is likely the solution for you!
The Full Mouth Reconstruction Process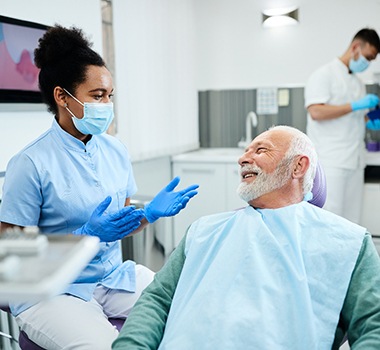 The first step in your treatment includes a consultation with your dentist. During this time, you will discuss all of the concerns you have with your smile. Our team will take the time to thoroughly examine your smile before we recommend any specific procedures. Here are some of the ones that your treatment may include:
Gum Disease Therapy: If you have gum disease, it will need to be addressed before we can proceed with other treatments.
Restorative Procedures: This includes tooth-colored fillings, dental crowns, and other restorations.
Tooth Replacement: Dentures, dental bridges, and dental implants are all excellent options for replacing missing teeth.
Cosmetic Dentistry: To improve the appearance of your smile, teeth whitening, dental bonding, and veneers can make a dramatic difference.
Understanding the Cost of a Full Mouth Reconstruction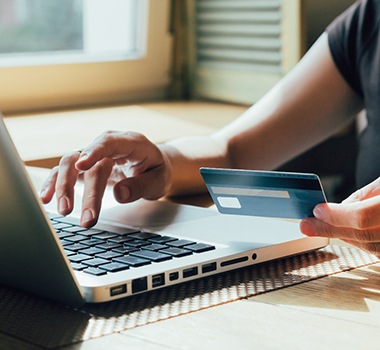 Full mouth reconstruction is highly customized for every patient, so the cost will vary from person to person. The cost of your full mouth reconstruction will depend on which treatments you require and the complexity of each one. During your consultation with us, we can discuss the financial aspects of your treatment in detail.
The cost of your full mouth reconstruction may seem like a lot at first, but it's important to remember that you are investing in the future of your smile. With a healthier smile, you may be able to save on restorative dental treatments in the future. We welcome and accept all PPO dental insurance plans, and our team is happy to file the claim on your behalf. We also work with CareCredit, a third-party financing company. For more information regarding your financial options, don't hesitate to reach out to one of our friendly team members!
Full Mouth Reconstruction FAQs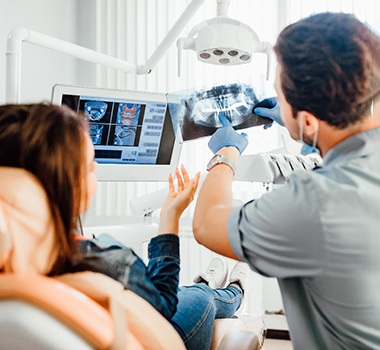 Full mouth reconstructions can be absolutely life-changing for patients, but it's important to know what you're getting into before starting one. Dr. Moneyhun and everyone else here at Parkside Dental believe strongly that patients should know as much as possible about the treatments that they get, so here are some answers to common questions people have about full mouth reconstructions.
Do I Need a Full Mouth Reconstruction?
"Full mouth reconstruction" is an umbrella term for a wide variety of treatments being done one after another. For that reason, you typically only need to undergo a full mouth reconstruction in situations where you've had extensive damage to your smile.
When we meet you for a consultation, we'll talk to you about what it is that you need, and whether a full mouth reconstruction is called for to deal with your issues.
Will People Be Able to Tell That I Had a Full Mouth Reconstruction?
At Parkside Dental, we make use of cutting-edge dental technology and high-quality materials to ensure that any reconstruction you get from us will be extraordinarily lifelike. As a result, people who meet you for the first time will have a very hard time telling that you've had dental work done.
However, people who do know you may be able to tell that something is different about your smile, depending on how radical the change is. People probably won't notice a filling or dental crown, but veneers will offer you a transformation that's hard to miss.
What Are the Full Mouth Reconstruction Steps?
First, we'll bring you in for your initial consultation. We'll talk to you about what you need to feel your best, and how we can help you to achieve your smile goals. This is when we'll determine whether you're a good candidate for a full mouth reconstruction.
At this point, we'll talk more specifically about exactly what kind of treatments you'll need, what they'll cost, and what the timeline for treatment is likely to look like.
Then, it's all about executing the plan. The time to complete all of the procedures will obviously vary significantly from person to person, but we'll make sure you always have a good idea of what to expect.
How Do I Care for My Smile After Full Mouth Reconstruction?
Once you've invested in your smile, you should make a concerted effort to take care of it. If you aren't already, you should make sure that you're brushing twice a day, flossing every day, and using mouthwash as often as possible.
You should also avoid any habits that could be damaging to your teeth. If you find yourself chewing your fingernails, crunching on ice, or using your teeth to open packages, each of those things could potentially put your restorations at risk.
Finally, you should see us often! Make sure to keep your follow-up appointments, and visit us for regular checkups and cleanings every six months.