Dental Implants – Landrum, SC
Reclaim Your Smile for a Lifetime
Dental implants are truly unique in the world of dentistry. Unlike traditional dentures and bridges, they actually replace both portions of a missing tooth above and below the gum line. A titanium "root" is placed directly into the jawbone, and this is used to support any number of restorations to bring back the teeth. The end result is something that looks and functions just like a real tooth, and now, you can get this state-of-the-art treatment right here in Landrum at Parkside Dental. To learn more about implants and how they could rebuild your smile, contact us today to schedule a consultation.
Why Choose Parkside Dental for
Dental Implants?
---
Restorations custom-made for every patient
98% success rate—able to last for 30 years or more
Gentle, knowledgeable, & highly-skilled team
The Cost of Neglect & Doing Nothing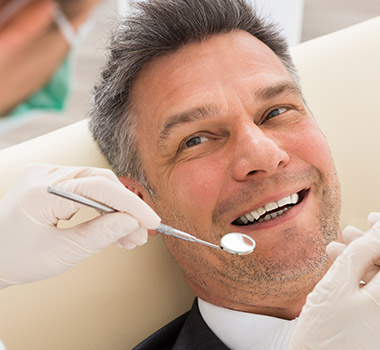 Many patients with missing teeth simply choose to ignore the problem because they believe it isn't really a big deal. Unfortunately, in the majority of cases, untreated tooth loss only tends to lead to even more tooth loss. Patients with gaps in their smile are much more likely to experience worn down and broken teeth as well as develop gum disease, which in itself is the leading cause of adult tooth loss in the US. Add this on top of the negative consequences missing teeth can already cause for a person's quality of life, and it's no wonder why Dr. Moneyhun always recommends that his patients have their teeth replaced as soon as possible.
Benefits of Dental Implants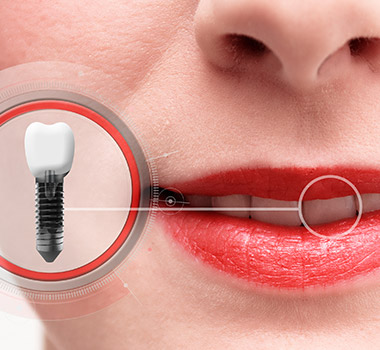 Because dental implants are firmly rooted within the jawbone, this makes them much more stable than other traditional replacements. This means a patient is able to eat and speak freely without having to worry about their restoration breaking or falling out.
The new titanium roots also provide another benefit: jawbone support. Once in place, they stimulate and encourage the growth of new healthy bone in the area, which prevents bone loss and helps maintain the overall shape of a person's face.
Implants are usually topped with 100% porcelain restorations, meaning they are not only extremely strong, but natural-looking as well. Once the procedure is over, only you and your dentist will know that a tooth isn't real.
Thanks to the quality of the materials used with implants, they are extremely durable. With regular brushing, flossing, and dental appointments, implants can easily be expected to last for 30 years or more, saving a patient from the periodic maintenance and retreatments necessary with regular bridges and dentures.
Partnered with the Best Oral Surgeons & Periodontists in the Area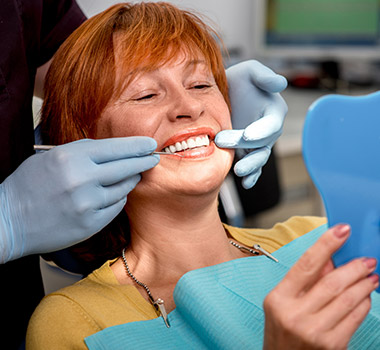 Placing dental implants into the jaw involves a minor surgery, and to make sure his patients receive the absolute highest level of care, Dr. Moneyhun works closely with a network of local oral surgeons and periodontists. These specialists have literally placed thousands of implants over the years, meaning Dr. Moneyhun can trust them to give his patients' new smiles the perfect foundation. After a patient has had their implants placed, they'll be given time to heal, and then they'll return to Parkside Dental to receive their custom-made restorations.
Indications for Dental Implants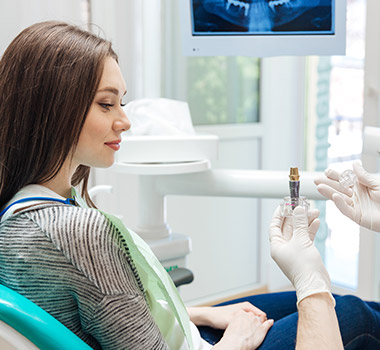 Dental implants can be used to effectively replace any number of teeth based on a patient's needs. When you come to see Dr. Moneyhun for a consultation, he can help you choose from among the following restorative options:
Missing Single Tooth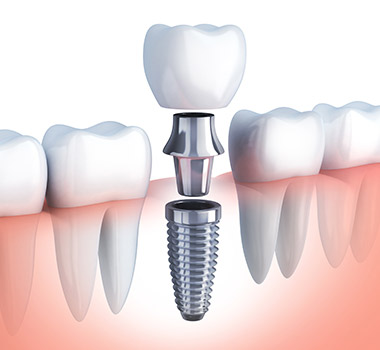 An all-porcelain dental crown can be attached directly to an implant root using a small connector called an abutment. This new tooth will be able to stand on its own without the support of the surrounding teeth, meaning they won't have to be altered to provide stability, better preserving a patient's natural smile.
Missing Multiple Teeth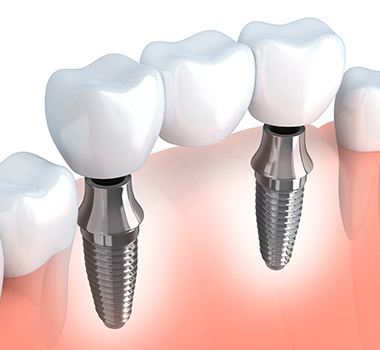 For patients missing three or more teeth in a row, rather than replacing each one with an individual implant, two can be placed on either side of the gap and used to support a strong and reliable bridge. Compared to regular bridges, implant bridges look more natural, fit better, and can be trusted to last longer as well.
Missing All Teeth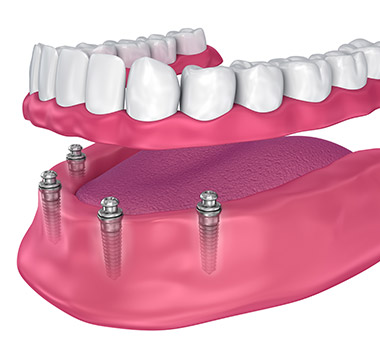 Using a few strategically placed implants, we can anchor a full or partial denture directly to the jawbone, giving it a hold and security a traditional removable prosthetic simply can't match. Implant-retained dentures also have another benefit: bite strength. Regular dentures usually only restore around 20% of the bite, while implant dentures can often bring back about 70%, enabling a patient to enjoy a wider variety of foods with ease.
Understanding the Cost of Dental Implants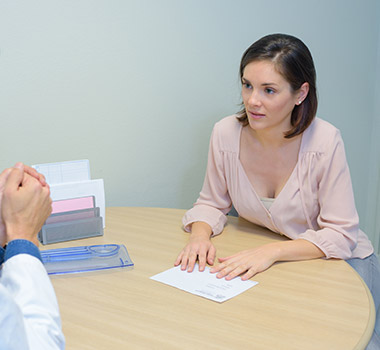 Because implants are able to help patients with varying degrees of tooth loss, the overall cost of the procedure can be quite different from patient to patient. Factors such as how many teeth a patient wants to be replaced, where they are located in the mouth, and what kind of restoration is used can all make the treatment more or less expensive.
While it's true that implant restorations tend to cost more upfront than other tooth replacements, they are actually the most cost-effective option long-term thanks to their durability. Regular bridges and dentures typically need to be completely redone every 7-10 years, multiplying their costs, while implants can often last for 30 years or more, making them just a onetime expense for many patients.
How Dental Implants Work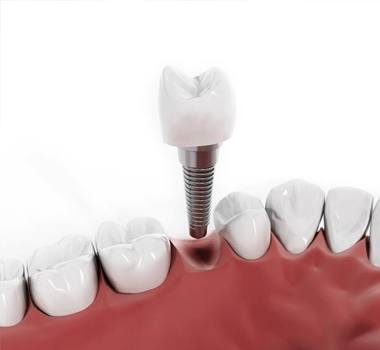 The long-term success and realistic outcome of dental implants is due to the unique process used to replace both the root and crown of a tooth. Your treatment consists of multiple phases, each of which is vital to ensuring the overall success of your new smile. We take the time to carefully explain each stage, so you can head into your treatment feeling confident about your decision.