Dentures – Landrum, SC
Restore Your Entire Smile
The idea of losing all of your teeth might seem far-fetched while you still have them, but that's far from the truth. Roughly 40 million adults are suffering from complete tooth loss, and even those who are only missing some of their teeth are likely to find eating and speaking to be far more arduous tasks than before. There's no need to put yourself through the daily struggle of tooth loss; Dr. Moneyhun can design and create dentures that fully restore the appearance and function of your grin. Call us today to schedule a consultation at Parkside Dental to learn more about the process of getting new teeth!
Why Choose Parkside Dental for Dentures?
Every Restoration Fully Customized for Patients
Partnered with the Best Implant Surgeons
Natural-Looking, Long-Lasting Materials
Full Dentures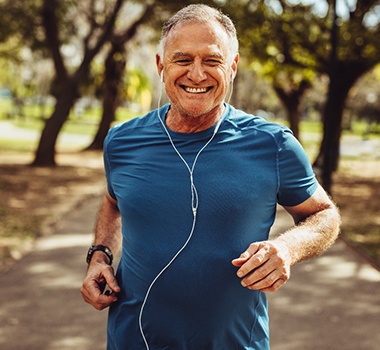 Full dentures are naturally the restoration of choice for anyone that has lost at least one entire row of teeth. Today's dentures are made out of a gum-colored acrylic base. The teeth that the base supports are normally either also acrylic or made out of porcelain. Either way, your new smile will be designed to look as natural as possible so that you can smile with confidence in front of others. Full dentures can be taken out of your mouth at any time, letting you give your gums a break at night. You can also take them out to clean them. While they remain in your mouth, they'll stay in place due to natural suction.
Partial Dentures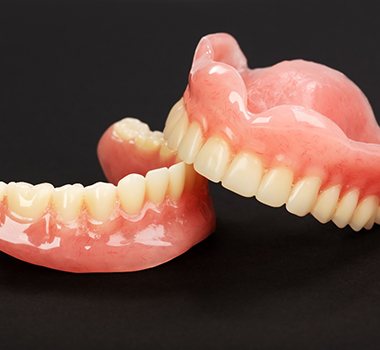 Partial dentures are recommended for anyone who has lost several (but not all) of their teeth in a single arch. They also have a gum-colored base and natural-looking false teeth, but the big difference is that they also have a metal piece that holds them in place inside your mouth. Said metal piece will fit comfortably and discreetly between your natural teeth. Note that your partial dentures will be uniquely designed just for you; they'll fit into the gaps in your smile like a puzzle piece.
Implant-Retained Dentures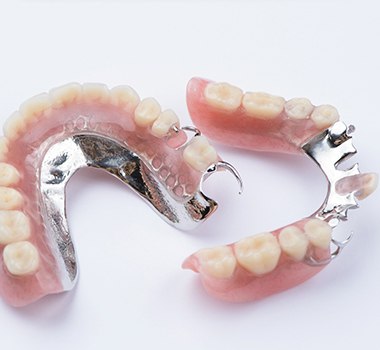 Full dentures and partial dentures can both be secured in place with dental implants, which are titanium posts that are placed under the gums where they have fused with the jawbone. Implant-retained dentures will stay firmly in place at all times, allow you to chew all of your favorite foods without restriction, and can be brushed and flossed normally. Dr. Moneyhun can determine whether you're a candidate for dental implants and refer you to a skilled oral surgeon for the procedure.
Maintaining Dentures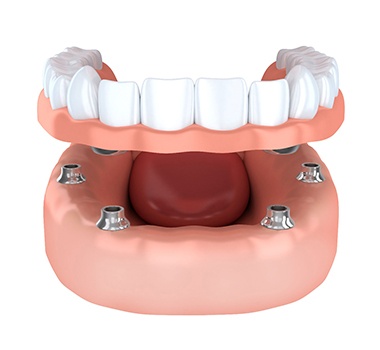 Even false teeth that can't develop cavities need to be maintained. Implant-retained dentures can be cared for like natural teeth. For removable full and partial dentures, you can purchase non-abrasive denture cleaner and use a soft toothbrush to remove the plaque and food debris that builds up during the day. At night, you'll need to keep your dentures in a special solution so that they stay moist. Feel free to ask Dr. Moneyhun for additional advice on caring for dentures.