Emergency Dentist – Landrum, SC
In Pain? Need Help? Call Us!
Has your child broken or knocked out one of their teeth? Do you have a bad toothache and need relief right now? If so, you only have to do one thing to get immediate and professional dental care: call Parkside Dental. We are often able to provide same-day emergency appointment to ensure that people can get what they need right away and back to their normal lives as quickly as possible.
Why Choose Parkside Dental for Emergency Dental Care?
---
Same-Day Emergency Appointments Available
Digital Technology Used to Deliver Precise Care in Less Time
Dental Insurance Welcome & Flexible Financing Available
How We Treat Dental Emergencies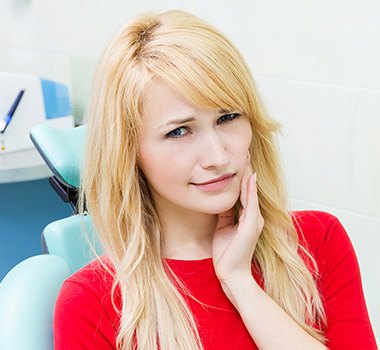 If you are in pain or need help, don't hesitate to give us a call right away. From there, here's how we will handle your dental emergency:
Schedule your same-day appointment: We are often able to see emergency patients on the same day that they call us. We will also give you first-aid instructions to manage your situation until you reach our office.
Your emergency exam with Dr. Moneyhun: When you reach our office, Dr. Moneyhun will see you for your emergency exam. He'll take a close look at your smile to learn more about your emergency.
Review findings and make a plan: Afterwards, Dr. Moneyhun will review his findings with you and fully explain your treatment options. Then, he'll help you pick the one that's best for you.
Get the care you need: Once you've made a treatment plan, we'll get to work right away relieving your pain and preserving your smile.
Paramount Experience & Qualifications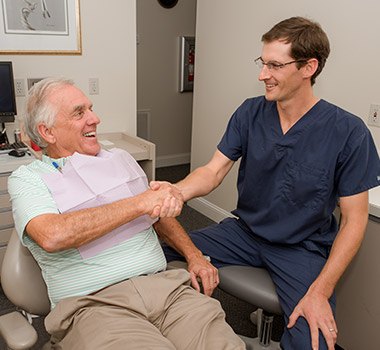 In addition to being a graduate of the Medical University of South Carolina, Dr. Moneyhun is also a member of the American Dental Association, South Carolina Dental Association, Academy of General Dentistry, as well as the Academy of Operative Dentistry. In other words, he has all the training and knowledge needed to handle any emergency situation, plus his calm and friendly demeanor is exactly what patients need during the most stressful situations.
The Most Common Dental Emergencies
If you are experiencing painful, new, or worrying dental symptoms, you may have a dental emergency. At Parkside Dental, we are well-equipped and experienced in handling a wide variety of dental emergencies. If you aren't sure whether you need urgent dental care or not, give us a call anyways so we can help you assess your situation over the phone. Here are some of the most common dental emergencies we treat.
Understanding the Cost of Dental Emergencies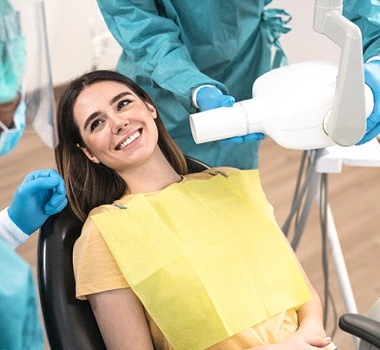 You can probably guess that the price of emergency dental care is going to be different from case to case based on the type of emergency as well as the treatment or treatments required. At our practice, stopping the pain and protecting the smile come first. When we recommend a service, it's with the full confidence that it's absolutely necessary for helping you overcome your dental pain. You can also count on our team to carefully go over all of your payment options.
Every Dental Emergency is Different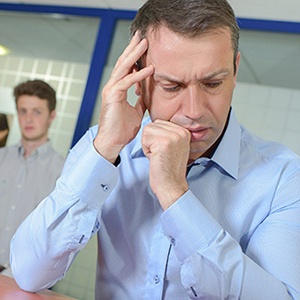 Your initial emergency exam won't cost very much in and of itself; it's the treatment that can dramatically affect the amount you end up paying. Root canal therapy, fillings, crowns, and tooth extractions are all common solutions for dental emergencies, but other forms of treatment might be offered based on the situation. We will give you an estimate once we have examined your mouth and come up with a treatment plan designed to put your smile back on the track to good health. All pricing information will be spelled out for you as clearly as possible before we move forward with a treatment plan.
Does Dental Insurance Cover Dental Emergencies?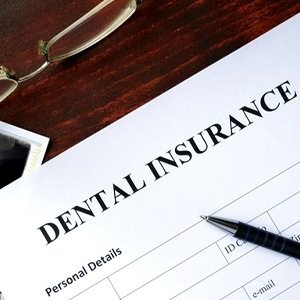 You may have heard that dental insurance emphasizes preventive care over restorative care. This is true, but fortunately most plans still have some benefits set aside for emergency care. You can usually expect a single emergency examination per year to be covered under most dental plans. Also, 50% to 80% coverage is usually provided for the treatments most commonly utilized in emergency care. Of course, no two dental plans are alike, so when you have the chance, you should call your insurance carrier to clarify what is offered as far as emergency care goes.
Other Options for Making Dental Emergencies Affordable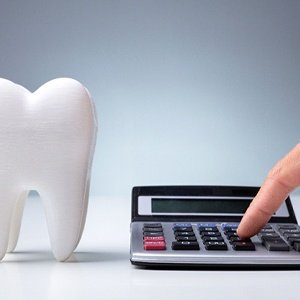 If you do not currently have dental insurance, or you require a form of treatment that isn't covered by your plan, then you can still make emergency care more affordable by breaking up the total cost into more manageable chunks. We work with the third-party financier CareCredit, and they have helped many patients fit badly needed care into your budgets. Get in touch with us if you'd like more information. You can also explore different CareCredit plans and sign up for one online.
Taking Care of Your Smile Can Save You Money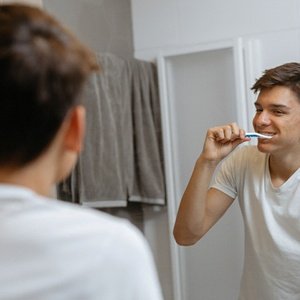 It's better for your smile and your wallet if you can avoid dental emergencies altogether. Some accidents can't be predicted, such as getting hit in the mouth, but you can prevent a majority of dental emergencies linked to decay or infection by practicing good brushing and flossing habits. Furthermore, if an emergency does occur, you stand to save a lot of money if you come to our office right away for treatment. Delaying care will only allow oral health issues to grow more severe; a cavity that could be treated with a filling could eventually require root canal therapy or even an extraction.
Keys to Preventing Dental Emergencies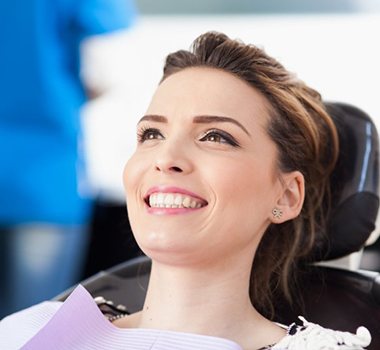 It often seems as though dental emergencies pop up out of nowhere, and that is certainly the case with sudden accidents or injuries. According to the American Dental Association, though, the vast majority of patients who seek urgent dental care have been suffering from decay or other damage that could have been treated earlier or even avoided entirely! From cavities to tooth fractures to dislodged teeth, taking a few basic steps can greatly reduce the risk of damage to your pearly whites. Here are five simple ways you can prevent dental emergencies in Landrum.
Visit Us Regularly for Dental Checkups & Cleanings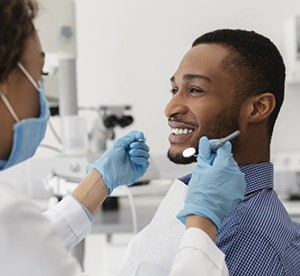 Cavities, infections, and tiny cracks in the teeth can all develop and worsen without even being noticeable until they reach the later stages and cause severe pain. That means you might be headed straight for a dental emergency as you read this! If you visit Parkside Dental for regular checkups and cleanings, though, we can most likely stop these issues in their tracks. Dr. Moneyhun can examine your mouth and address any problems he detects right away, preventing them from turning into full-blown emergencies. We can also remove built-up plaque and administer fluoride treatments, both of which reduce the likelihood of bacteria wreaking havoc on your teeth.
Maintain Good At-Home Oral Hygiene Habits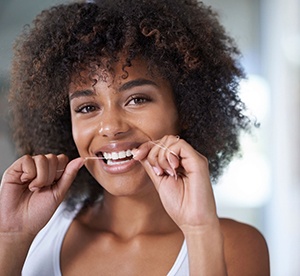 Keeping your mouth clean at home is also crucial if you want to avoid having to visit our emergency dental office in Landrum. Neglecting to brush twice a day and floss once a day can cause plaque and tartar to accumulate on your teeth and gums. These particles can gradually weaken your tooth enamel and inflame your gum tissue to the point that an emergency develops. Our team would be more than happy to recommend a particular type of toothbrush, toothpaste, and/or mouthwash to meet your unique oral health needs.
Watch What You Eat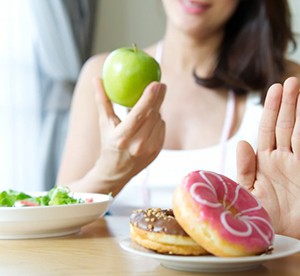 You've undoubtedly heard that eating too much candy can lead to painful cavities. But sugary sweets aren't the only type of food to be careful about. Starchy foods like potato chips and white bread also break down into sugar particles in the mouth, which fuel cavity-causing bacteria. You can still enjoy these items, but remember that moderation is key. Make sure to also get plenty of calcium, fiber, and vitamin C, as all of these nutrients promote healthy teeth and gums.
Wear a Mouthguard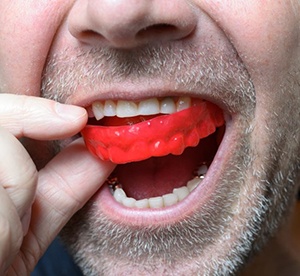 Even though tooth enamel is the strongest material in the human body, it could still break if exposed to a sudden injury or long-term wear and tear. If you play a sport that involves the chance of impact to the face, ask Dr. Moneyhun about getting a custom-fitted mouthguard to cushion your pearly whites. In the same vein, we can provide a personalized nightguard for you to wear to bed if you have a habit of grinding your teeth.
Don't Use Your Teeth as Tools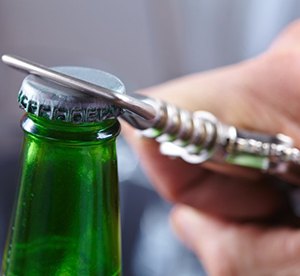 Maybe you're excited about opening a package that just arrived. Perhaps you want to open a fresh bottle of soda without grabbing the bottle opener from the kitchen. In situations like these, you might be tempted to use your teeth to accomplish the job. While you might save a few moments, it's all too easy for these activities to break a tooth. Then you'd end up spending more time getting dental treatment! As a rule of thumb, don't use your teeth for anything more than chewing food. Always keep the appropriate tools handy so that you're not tempted to risk your smile instead.
Dental Emergency FAQs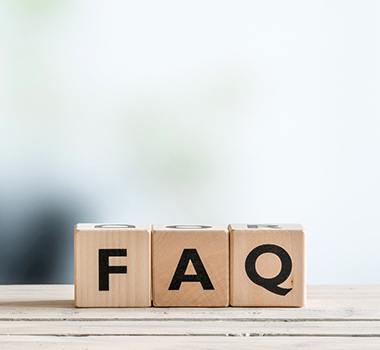 Do you want to know more about how to respond to a dental emergency in Landrum? Our expert staff at Parkside Dental answer some of the most common questions about emergency dentistry below. Whether you are a returning or new patient , we hope you find this information helpful! If you have any additional questions, do not hesitate to contact our office.
Does Emergency Dental Care Cost More?
Many people avoid seeking urgent dental care out of fear that it will strain their wallet. And, while it's true that most treatments designed to relieve oral discomfort cost more than your standard checkup and cleaning, the initial emergency exam is relatively inexpensive.
You should also know that putting off the care you need could actually end up costing you more money. Dental health problems rarely resolve themselves on their own, so without the proper treatment, they could get worse. For example, maybe your toothache was caused by a cavity that would have only required a filling if you'd scheduled an appointment with us as soon as you noticed the pain. After enough time without care, the cavity may have grown to the point where you need more expensive treatments like root canal therapy or even a tooth extraction.
How Should I Sleep with Tooth Pain?
When dealing with a toothache at night, grab some extra pillows so you can sleep with your head elevated. This will prevent the blood from rushing to your head and intensifying your toothache. If your dental pain is keeping you awake, take over-the-counter pain medication as directed on the bottle. Holding a cold compress to your cheek can also help dull your discomfort. Finally, avoid eating acidic, cold, or hard foods right before bed for improved comfort.
Should I Visit the Emergency Room First for Dental Emergencies?
Responding to dental infections or trauma requires specific knowledge, skills, and tools. Unfortunately, most emergency rooms are not able to effectively address dental emergencies. For that reason, we recommend contacting our office immediately in case of a dental emergency. In most cases, we are able to see patients on the same day that they call us.
There are three main exceptions where an ER visit is a better option than contacting an emergency dentist in Landrum , including:
Jaw fractures and dislocations.
Serious cuts or lacerations to the face or mouth.
Abscess or infection that is swollen to the point of affecting breathing or swallowing.
Should Knocked-Out Teeth Be Placed in Water?
Water is safe to use to rinse a dislodged tooth. However, if your tooth gets knocked out, you should NOT place it in a container with water. Doing so can damage the root surface cells of teeth, reducing the chances of it being able to be placed back into the socket. Instead, try to place the dislodged tooth back into your open socket, being careful not to touch the tooth roots with your fingers. If that doesn't work, place the tooth in a secure container with milk and head to our office right away.
What Does Chronic Bad Breath Mean?
Chronic bad breath, also known as halitosis, can be a sign of oral health trouble, including cavities, gum disease, and dental infections. We're not talking about having smelly breath in the morning or after eating a meal with lots of garlic. Instead, halitosis means your bad breath does not go away for more than a few days. Mints or even extra brushing will likely only provide temporary cover. To truly get rid of chronic bad breath, schedule an appointment with a dentist so they can look for any underlying problems.
Are Toothpicks Safe to Use?
If you have bits of food stuck between your teeth, reach for floss instead of a toothpick. Toothpicks, especially if they are wooden, are not particularly safe to use. They can easily damage your enamel or gum tissue and can even splinter and break off inside your mouth. In addition, toothpicks are not as effective at removing debris as floss. With a toothpick, you may actually end up pushing food debris further in between teeth or under the gumline.
What If I Can't Afford Emergency Dental Care?
Our team will never deny you care if you're experiencing a dental emergency, especially if you're in pain. When an emergency strikes, please don't hesitate to reach out to our dental office so we can provide you with the care you need. Once we've soothed your pain, we can go over your treatment options as well as your financing ones. That way, you'll be clear-headed enough to make the right decision.
Even if you don't have dental insurance, or your plan doesn't quite cover the necessary treatment, our Parkside Dental team can still help you make emergency dental care affordable via CareCredit. We'll help you with the application process, and if you're approved, you can break up your treatment expenses into smaller monthly installments at very low or even no interest rates.
Can I Pop a Dental Abscess on My Own?
If you have a bump on your gums that resembles a pimple, you should NEVER attempt to pop it on your own. This bump is called a dental abscess, and it indicates a serous infection in the gums or the root of a tooth. You might be tempted to pop it, but doing so could actually worsen your irritation and pain. It could even release more bacteria into your mouth, causing the infection to spread. Instead, we urge you to call our office so that we can administer fast, safe, and effective treatment.
What Is Causing My Jaw Pain?
More often than not, jaw pain is caused by chronic teeth grinding and clenching, which exerts pressure on the jaw joints (also known as the TMJs). However, jaw pain may also be the result of conditions like arthritis, or injuries to the face or jaw that never healed properly. Whatever the case may be, Dr. Moneyhun is prepared to help! He has completed advanced training in the diagnosis and treatment of TMJ disorder, and he'll gladly help you get the bottom of your jaw pain and create a personalized solution to relieve it.