Single Tooth Dental Implants – Landrum, SC
Regain a Complete, Confident Smile
If you are missing a single tooth, it is important that you do not fall into the trap of thinking that replacing the lost member of your smile is not a priority. In fact, if you don't replace that tooth, you are setting yourself up for a number of problems. The bone that once supported the tooth will begin to deteriorate, and nearby teeth may drift out of place. Eventually, further tooth loss could occur. Dr. Moneyhun, your dentist in Landrum, can help you prevent such issues with natural-looking and natural-feeling single tooth replacement.
Why Choose Parkside Dental for Single Tooth Dental Implants?
---
Team-focused approach to dental implant treatment
Long-lasting, highly functional results
Gorgeous restorations that are indistinguishable from natural teeth
Single Tooth Replacement Options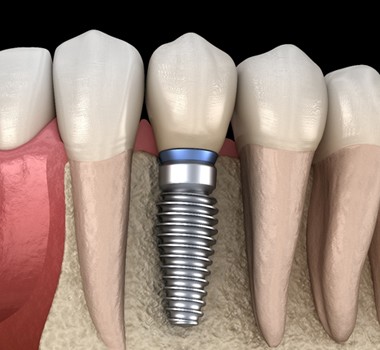 There are essentially two different treatments that can replace a single tooth:
A fixed bridge is a prosthetic that relies on the teeth next to the empty space (the abutment teeth) for support. Dr. Moneyhun places crowns on top of the abutment teeth, and the crowns have an artificial tooth between them that fills in the gap. Many patients opt for a fixed bridge because it is a relatively fast and affordable treatment. It can restore dental function, prevent dental drift, and provide pleasing aesthetics.
A single tooth dental implant is a small titanium cylinder that serves as a prosthetic tooth root. Dr. Moneyhun partners with local oral surgeons, who place the implants into patients' jawbones. As the bone heals after the surgery, it fuses with the implant. Once that fusion process, known as osseointegration, is complete, Dr. Moneyhun designs a crown to go on top of the implant and replace the visible portion of the lost tooth. Each crown is custom-made to work with a patient's oral structures and provide a natural appearance.
Benefits of Implant Supported Sigle Tooth Replacement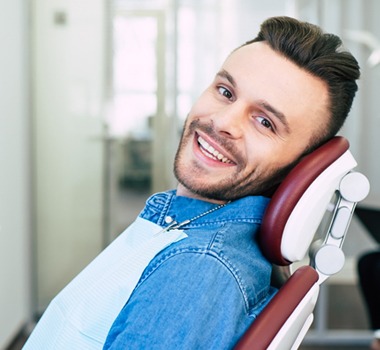 Fixed bridges and dental implants in Landrum are both viable options for single tooth replacement. However, Dr. Moneyhun frequently recommends dental implants as the preferred treatment because:
A dental implant replaces a missing tooth from the root up. A fixed bridge only replaces the top portion of a lost tooth.
Placing a fixed bridge requires that the abutment teeth be filed down. Because a dental implant is self-supporting, it helps patients retain as much of their natural dentition as possible.
A dental implant has the potential to last for 30 years or longer, whereas a fixed bridge may endure for just 10 years or so.
A dental implant stimulates the jawbone and helps to keep it strong and whole. A fixed bridge does not support bone health.
A dental implant provides the sturdiest, most natural-feeling tooth replacement.
In many respects, caring for a dental implant is just like caring for a natural tooth.
Contact Parkside Dental Today
Are you ready to learn more about how a dental implant may be able to help you regain a complete smile? Request your restorative consultation with Dr. Moneyhun today.