October 15, 2019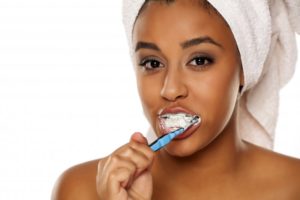 It's no secret that it's much better to maintain your oral health than it is to live in a "fight or flight" mode by having to constantly respond to dental issues. The key is to know what is necessary to sustain your oral health and then to take the appropriate actions. To help in your quest for strong teeth and gums, a dentist in Tryon has compiled a list of the 8 most impactful habits for dental wellness. Read on to get the information you need, and prepare to take action today!
Tip #1 – Keep Bacteria Under Control
The primary enemy of healthy teeth and gums are oral bacteria, as they are the leading cause of cavities, gum disease and tooth loss. These microorganisms are always present in your mouth; however, they are most active after you consume a meal or drink a beverage (other than water). Thus, to keep them at bay, it's a must to practice consistent and excellent oral hygiene.
Tip #2 – Toothbrushing – The Two and Two Rule
If you're looking to get the most out of your toothbrushing, then you should adhere to the "two and two" rule: to brush your teeth for two minutes at least two times a day. This will help to keep persistent bacteria under control.
Tip #3 – Don't Neglect Flossing
When you brush your teeth, you're technically only able to clean around 60% of the surface. To get to the rest of the area, flossing is required. The flexible material allows you to navigate the tight spaces between your teeth where bacteria love to hide. As a general rule of thumb, you should floss every time you brush your teeth.
Tip #4 – Include Tongue Scraping in Your Oral Hygiene Routine
In addition to brushing and flossing your teeth, it's critical to your oral health that you clean your tongue thoroughly. That's because it makes contact with every part of your mouth. Therefore, if it's not clean, it can spread debris to your teeth and gums.
A great hygienic tool to know about is a tongue scraper. The device is designed to gently glide from the back of your tongue to the front to remove particles and bacteria that have become trapped between the papillae (the tiny bumps that line the tongue).
Tip #5 – Don't be Fooled by White Teeth
A common misconception that dentists and hygienists encounter is that white teeth equate to good oral health. The reality, though, is that your teeth can be attractive yet unhealthy, as cavities aren't always visible. The moral to the story is to not "judge a book by its cover," and to maintain regular dental visits in Tryon so you'll know the status of your oral health.
Tip #6 – Don't Settle for Dentures
If you believe that you're destined to wear dentures as you get older, then dental professionals want you to know that you should never settle for losing your teeth. That's because the quality of your dental care plays a bigger role in your oral health than the effects of aging.
So if you want to have your teeth for the rest of your life, now is the time to commit to excellent oral health.
Tip #7 – Be Careful with Coffee and Soda Consumption
Do you have to start your day with a cup or two of coffee? Is it common for you to sip on a soda while you eat lunch or dinner? If the answer is "yes" to either of these questions, then it's time to rethink things. That's because coffee, soda and other beverages of the like are acidic. Thus, in addition to contributing to unattractive stains and discoloration, they can also cause enamel (the outer layer of the teeth) wear.
A better alternative, of course, is to drink water. However, if you're going to drink coffee or sodas, it's helpful to use a straw and to clean your teeth soon after consumption.
Tip #8 – Maintain Regular Dental Visits
When it comes to preserving and improving your oral health, your #1 ally is your dentist. That's why it's important that you visit at least every six months for preventive care. While you're there, you'll undergo a thorough cleaning and examination so that any developing issues can be identified and brought to your attention. Therefore, a plan can be structured to fix the problems.
These eight tips are actionable items that can make big changes in your oral health. To ensure that you're on the right track, contact your dentist in the Tryon area to schedule a visit today!
About the Author
Dr. John Moneyhun earned his dental degree from the Medical University of South Carolina. Since entering the dental field, his commitment to excellence hasn't wavered, which is why he takes continuing education courses annually. Dr. Moneyhun helps patients maximize their dental health by providing preventive care at Parkside Dental, and he can be reached for more information through his website.
Comments Off

on 8 Dental Health Tips That Dentists and Hygienists Swear by!
No Comments
No comments yet.
RSS feed for comments on this post.
Sorry, the comment form is closed at this time.