February 7, 2020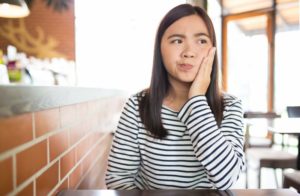 Imagine this: you're eating your favorite snack when suddenly you distinctly feel your dental crown wobble in the back of your mouth. Or maybe you've noticed that food is getting stuck beneath it more often, or that your tooth has become sensitive to hot and cold. These are all tell-tale signs that your dental crown is loose, which means it could fall off or the tooth underneath could become infected if you don't act soon. Read on as your dentist near Campobello explains why it's coming loose and what you need to do about it.
Why is My Dental Crown Loose?
Dental crowns near Campobello are designed to stay firmly in place for at least a decade, but there are a variety of factors that could cause them to lose their grip in your smile:
Damage caused by trauma.
Eating too many sticky foods.
Teeth grinding or jaw clenching.
Bad oral hygiene and the resulting tooth decay.
What Should I Do If My Dental Crown is Loose?
A loose crown is an unsettling feeling that can sometimes qualify as a dental emergency, so it's important that you act quickly and correctly. If you find yourself in this situation, follow these steps:
Call your dentist: You should get in contact with your dentist right away. They can help you determine if it's an emergency, administer first aid over the phone if needed, and book an appointment for you.
Be careful with your dental crown: If your dental crown hasn't fallen out, you should do your best to keep it that way. Resist wiggling or touching it, and only chew food on the opposite side of your dental crown.
Keep it in place: If you can't see your dentist right away, they may instruct you to use dental cement to hold it in place. The dental cement you can buy at your local pharmacy is only a temporary solution, but it can keep your crown in place to protect your teeth from decay and sensitivity.
Can My Dental Crown Be Tightened?
At your appointment, your dentist will determine what caused your dental crown to loosen. If your tooth and dental crown are both in good shape, they can simply cement it back in place. A damaged or broken dental crown can sometimes be fixed, but other times will need to be replaced. However, if the dental crown came loose because the tooth underneath it has started to decay, the tooth will need to be fully treated before attaching a dental crown to it again. Whatever the cause, your dentist near Campobello has the knowledge and experience to correct a loose dental crown so you can get back to enjoying your happy, healthy smile!
About the Author
At Parkside Dental in Landrum, SC, we want you to enjoy excellent oral health care that stands the test of time. Dr. John Moneyhun makes understanding your unique dental situation, concerns, and goals his top priority to create a personalized treatment plan just for you. A loose dental crown could be a symptom of issues like bad chewing habits, tooth decay, or other oral health problems, but Dr. Moneyhun can help you discover and treat whatever dental health concerns you're facing. If you're concerned about your dental crown, don't hesitate to reach him via his website or at (864) 457-3901.
Comments Off

on Why Is My Dental Crown Loose and What Should I Do About It?
No Comments
No comments yet.
RSS feed for comments on this post.
Sorry, the comment form is closed at this time.