April 8, 2020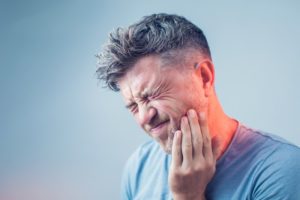 You're sitting at home having a cold glass of iced tea. You take the first sip and suddenly have a searing pain in your mouth. Does this sound familiar? Thousands of people deal with tooth sensitivity for a number of reasons, but is it really a big deal? During the COVID-19 pandemic, most dental offices are only seeing patients with immediate dental emergencies. Knowing the most common causes of tooth sensitivity and their treatment options will help you to know whether you can start to tackle your problem at home or if you require a visit to an emergency dentist in Landrum.
Nailing Down the Causes of Sensitivity
Only a qualified dental professional can diagnose the cause of your specific sensitivity. You should always schedule an appointment with your dentist for any severe or prolonged tooth pain. However, tooth sensitivity is often intermittent and is the response to different stimuli, such as hot and cold.
The most common causes of tooth sensitivity are:
Tooth Decay and Worn Enamel: When you have cavities or advanced tooth decay, different stimuli may be able to reach the nerve in your tooth root, causing irritation and pain.
Exposed Roots: When gums recede due to gum disease or aggressive brushing, the roots of your teeth may become exposed. The roots of your teeth are protected by a layer called dentin which is porous and not as strong as the enamel that protects the crowns of your teeth. The dentin is less equipped to protect your teeth from different irritants.
Infected Tooth Roots: If you have an infection inside your tooth, this is often accompanied with a lot of pain and inflammation. If you have constant, severe pain, it is often necessary to have a root canal. This type of pain indicates scheduling an immediate emergency visit.
Handling Minor Sensitivity
No type of tooth pain should be left undiagnosed in the long term. For mild tooth sensitivity in the short term, however, consider the following:
Use a Desensitizing Toothpaste: Many of these are available over-the-counter. After multiple applications, many people with mild sensitivity notice a strong decrease in their pain.
Use a Soft-Bristled Toothbrush and Fluoride Mouthwash: Brushes with hard bristles are more likely to cause gum recession and irritate already sensitive areas. Fluoride can help strengthen the enamel and potentially lead to less sensitivity.
Avoid Acidic Foods and Drinks: Acids are likely to eat away at your enamel and dentin. If you habitually partake in acidic drinks, consider using a straw to keep the drinks away from your teeth.
All types of sensitivity can be treated by your dentist. A little bit of knowledge about the causes of tooth pain can be very beneficial. If any short-term solutions don't work or the pain escalates, make sure to schedule an emergency appointment with your dentist right away.
About the Author
Dr. John Moneyhun is dedicated to keeping his patients looking and feeling their best. He is proud to treat his community and goes the extra mile to continue his education. From the highly-revered Dawson Academy to Gordon Christensen's Practical Clinical Courses, he has built the foundation to provide the highest level of care and education to his patients. If you think you may be having a dental emergency or want an over-the-phone opinion on sensitivity, reach out to his office.
Comments Off

on So Sensitive: When You Should See an Emergency Dentist in Landrum
No Comments
No comments yet.
RSS feed for comments on this post.
Sorry, the comment form is closed at this time.