May 18, 2020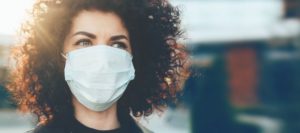 While COVID-19 can infect anyone, it can cause serious and even life-threatening complications for some people. The Centers for Disease Control and Prevention have identified several factors that can put you at a higher risk of serious illness from COVID-19, including older age, underlying health conditions, and weakened immune system. If you or a loved one are considered at-risk, it's vital that you take a few extra precautions to stay safe. Your Landrum dentist answers five common questions about staying healthy in your everyday life during the coronavirus pandemic.
1.) What Are the Best Ways to Stay Healthy in COVID-19?
While the coronavirus is easily transferable, there are several simple yet effective measures you can take to lower your risk of getting sick. According to the Centers for Disease Control and Prevention, the three best ways to keep yourself healthy are:
Limit your exposure to the virus by staying at home as much as you can.
When out in public, practice social distancing and stay six feet away from others.
Thoroughly wash your hands for 20-30 seconds frequently throughout the day.
2.) What's the Safest Way to Get Groceries?
Your safest option is to avoid the store while getting groceries. You can do this by having your groceries delivered to you via contactless delivery. Other low-exposure methods include grocery drive-thru or pick-up services. If you do choose to shop in person, considering visiting a store that offers shopping hours for at-risk customers exclusively.
3.) What Precautions Should I Take When Ordering Takeout?
Just like getting groceries, the safest way to order takeout is to keep your distance from others. Many food delivery options offer to leave your food at your door instead of handing it to you. If you choose to support a local restaurant but need to go inside to pick up your order, spend as little time inside as you can and stay six feet away from others.
4.) What Can I Do to Stay Healthy When Getting My Prescription Medications?
Many pharmacies are utilizing drive-thru or curbside pickup services to keep their customers safe. Alternatively, some mail-order pharmacies can deliver your medications directly to your home. Simply call your physician and request that your prescription medications are sent to a pharmacy with one of these options.
5.) Should I Still Go to My Doctor or Dentist Appointment?
In some cases, your dentist or doctor may deem it safer for your upcoming appointment to be postponed or changed to a virtual visit. However, other appointments are necessary for your ongoing health. Call your dentist or doctor to find out what the safest course of action is. If you do need to visit their practice, you can rest assured that they are taking every precaution to keep their office as clean and germ-free as possible.
While there is currently no cure for COVID-19, there are plenty of ways we can keep ourselves healthy. Use these precautions to keep yourself, your loved ones, and the entire community safe during the coronavirus pandemic.
About the Author
Dr. John Moneyhun of Parkside Dental has always been concerned about his patients' overall wellbeing as well as their beautiful smile. To keep his patients, staff, and the entire community of Landrum, SC safe, he has made the difficult decision to temporarily close his practice. However, he is still available to treat dental emergencies and answer any questions you may have about keeping your smile healthy in these unusual times. He can be contacted via his website or at  (864) 457-3901.
Comments Off

on At Risk of COVID-19? 5 Common Questions About Staying Healthy
No Comments
No comments yet.
RSS feed for comments on this post.
Sorry, the comment form is closed at this time.