July 12, 2022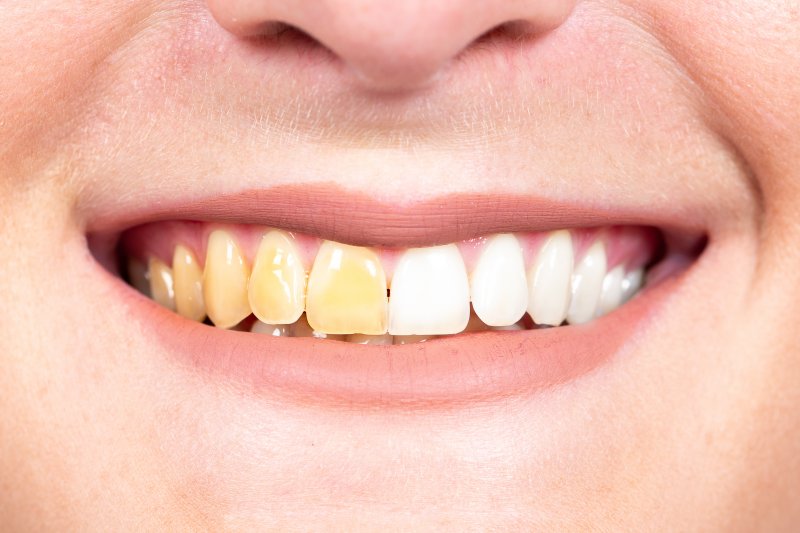 Having a brilliantly white smile is something most people wish for. While brushing and flossing can help maintain clean and healthy pearly whites, it's natural for teeth to become stained over the years. However, the kind of discoloration you may get might influence which dental treatment you'll need to address the issue. Read on to learn the types of tooth stains, what causes them, and methods to help you achieve a brighter smile!
What Are the Different Types of Tooth Stains?
Typical tooth discoloration can be due to surface stains, changes in your tooth tissue, or even a combination of the two. Here are the most common types of tooth stains and their causes:
Extrinsic
This kind of discoloration mostly occurs on the external part or the surface of your tooth. It can develop from debris or food particle buildup in the film of protein covering your enamel. Although this type of staining may be removed with a routine dental cleaning, you may require more powerful methods or even brush with whitening toothpaste. Extrinsic discoloration usually occurs from consuming dark-colored foods and beverages (such as chocolate, berries, coffee, red wine, and soda) or using tobacco products.
Intrinsic
This is the opposite of an extrinsic stain, as the discoloration happens below the surface of your tooth. Stain-causing particles may penetrate through the enamel and collect inside, causing your pearly whites to appear darker. It can often be caused by trauma or damage to the tooth, decay, excessive fluoride use, certain medications, and even genetics.
Age-Related
Your enamel will naturally wear down as you get older, exposing more of the dentin or core tissue. This can eventually cause your teeth to appear yellower. The condition is normally due to both extrinsic and intrinsic factors and may require more than routine dental hygiene to treat it.
How Can You Treat Tooth Discoloration?
While tooth stains are a natural part of aging, you can still seek dental treatments to help brighten your pearly whites! Here are several ways you can improve your smile through cosmetic dental work:
At-home teeth whitening: With take-home whitening kits and powerful bleaching gel, you can gradually brighten your teeth from the comfort of your home in just a couple of weeks!
Dental bonding: If you'd like to whiten and mask minor dental flaws, then your dentist can use composite resin to sculpt your pearly whites into a more radiant smile.
Veneers: For a more comprehensive option, you can conceal most dental imperfections with porcelain veneers. Not only will they repair mildly damaged teeth, but they can also offer a virtually permanent whitening solution for both extrinsic and intrinsic stains!
Although tooth discoloration can feel discouraging, you can still address your situation with various cosmetic dental treatments. Speak with your dentist if you think you can benefit from these procedures, and they'll be happy to discuss your options!
About the Author
Dr. John Moneyhun earned his dental doctorate from the Medical University of South Carolina and regularly seeks continuing education to refine his skills. He's also a member of several groups like the South Carolina Dental Association and the Academy of Operative Dentistry. He offers a wide variety of high-quality services, including dental checkups/cleanings, teeth whitening, dental bonding, and veneers to create a beautifully bright smile. If you'd like to schedule a consultation, visit his website or call 864-457-3901.
Comments Off

on Tooth Stains: What Causes Them & How Do You Treat Them?
No Comments
No comments yet.
RSS feed for comments on this post.
Sorry, the comment form is closed at this time.