March 6, 2023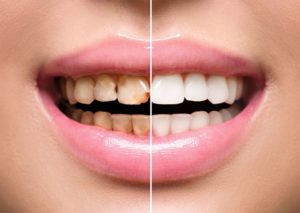 Do you try to hide your smile? If you are not happy with your teeth, it can affect your self-confidence and keep you from freely sharing your grin with others. However, you don't have to live with any dental flaws that make you unhappy! Cosmetic dentistry offers so many options to upgrade your pearly whites. Read on to learn the four most common aesthetic issues with teeth and how your cosmetic dentist can help!
#1: Discolored Teeth
A bright, white smile is always admired. It makes you appear youthful and full of life. However, many people are not happy with the color of their teeth. According to a survey by DentaVox, 38% of people said their teeth were yellow. Staining and discoloration are not only natural as you age, but also can be caused by eating and drinking dark-pigmented liquids, taking certain medications, and smoking. Thankfully, professional teeth whitening is one of the best methods to brighten your smile. For severely stained teeth, veneers are another effective option.
#2. Misshaped Teeth
Having misshaped or uneven teeth can really impact the aesthetic of your smile. Oftentimes, the shape and evenness of your teeth are largely determined by genetics. Additionally, bruxism (teeth grinding) can slowly change the appearance of your pearly whites too. Fortunately, there are a few ways to correct misshapen teeth. Veneers can bring a new shape to your teeth by placing custom-made coverings over the front surface of them. Dental bonding is another option. Your dentist can mold and shape a custom-colored resin over the surface of the teeth to create a more even look.
#3. Chipped or Cracked Teeth
Even though your teeth are strong, they aren't invincible. They can get damaged by physical injury, bruxism, and using your teeth as tools. Fortunately, these issues are widespread and generally easy to fix! Popular solutions are cosmetic dental bonding and veneers, as mentioned above. A dental crown is another option, which places a cap over the tooth to restore its appearance and protect it from further damage.
#4: Crooked Teeth
In addition to wanting whiter teeth, many people want to also have a perfectly straight smile. However, having misaligned teeth doesn't just affect your appearance; it can be difficult to fully brush and floss your teeth, which increases your risk of decay, cavities, and gum disease. If you have minor crowding in your mouth, you can always consider veneers for a picture-perfect smile.
About the Author
Dr. John Moneyhun and his team at Parkside Dental keep the smiles of Landrum healthy and beautiful. He earned his Doctor of Dental Medicine at MUSC, where he also received the South Carolina Dental Association award for outstanding scholastic accomplishments and clinical abilities. With a 5-star rating on Google from over 180 reviews, he can successfully help you achieve any of your smile goals with cosmetic dental treatments. To schedule a consultation, contact him through his website or call (864) 800-1691.
Comments Off

on 4 Reasons You May be Unhappy with Your Smile (& How to Fix It)
No Comments
No comments yet.
RSS feed for comments on this post.
Sorry, the comment form is closed at this time.