December 15, 2019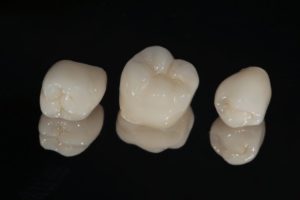 You have one tooth with a chip in it after an accident. It doesn't hurt, but it does bother you in another way: you're self-conscious about the way it stands out in your smile. How exactly can your dentist remedy this? One way is by placing a dental crown near Tryon. This tooth-shaped cap made of durable dental porcelain is slipped on over a tooth for many reasons. Continue reading to learn five reasons why your dentist might recommend that you get a crown.
1. Your Tooth Is Weak or Broken
Crowns can prevent a weak tooth from breaking, or hold the pieces of a broken tooth together. Additionally, they can support and protect a tooth that has a large filling when there isn't much natural tooth enamel left.
2. You Just Had a Root Canal
During a root canal, your dentist near Tryon creates a hole in your tooth to access and clean out the inner portion, known as the dental pulp. As a result, your tooth is often weak after the procedure. Letting you go live your life with a hole in your tooth would be just asking for a bacterial infection. That's why your dentist caps the tooth with a crown to protect it from further decay or injury.
3. You Received a Dental Implant
Dental implants are titanium posts that are inserted under your gumline, directly into your jawbone. The implant itself feel like a part of your natural tooth, but the post isn't visible. That's why your dentist will top your implant with a realistic-looking dental crown. Once the restoration has been attached to your implant, your smile will look just like it did before you lost your tooth.
4. You Got Bridgework
A dental bridge is another option to replace one or more missing teeth. Crowns are anchored to the teeth at either end of the gap in your smile, with artificial teeth called pontics in between. bridges require two crowns to work, unlike implants, which need one per post.
5. You Want to Improve Your Tooth's Appearance
Crowns are mainly used for structural reasons, but you can also get them cosmetically if you so wish. They can be used to conceal a tooth that is chipped, cracked, misshapen, worn down, stained, or discolored. If you have a single tooth that is not living up to its full aesthetic potential, consider a dental crown to solve the problem.
About the Author
Dr. John Moneyhun obtained his Doctor of Dental Medicine degree at the Medical University of South Carolina. During his time there, he received the South Carolina Dental Association Award for outstanding scholastic excellence and clinical abilities. He is passionate about honing his skills through continuing education, and regularly takes courses at the prestigious Dawson Academy. His practice offers dental crowns near Tryon to help you with any of the problems listed in this post that you might have. To learn more, contact Dr. Moneyhun's Landrum, SC practice at (864) 457-3901.
Comments Off

on 5 Reasons Why You Might Need a Dental Crown
No Comments
No comments yet.
RSS feed for comments on this post.
Sorry, the comment form is closed at this time.